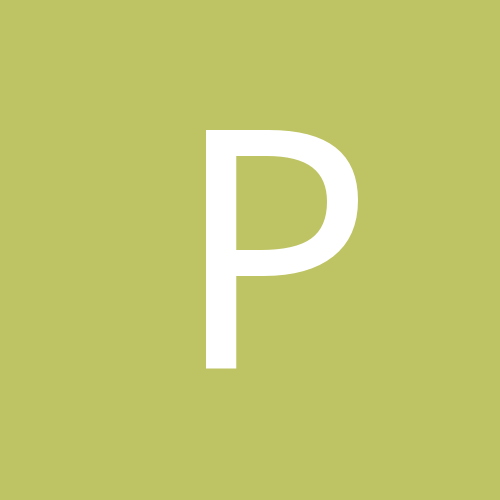 Content count

126

Joined

Last visited

Days Won

4
Everything posted by probak118
Hankster, someone stole your bracket , it's black in colour, an inch plus in depth and in the middle of the front end just under the grill. As mentioned look for the dimple marks then after the bracket is attached, attach plate in side bracket using the two threaded holes for the license plate screws.

Looks familiar, I did the same a few years ago but not that bad. It looks pretty small really but you know its's there now. Personally, as long as tire seal is maintained and wheel balance was not affected leave it. Worry about it when its time to buy new tires. My two cents.

Widows started to fog-up and I knew what happened, been twenty years since that happened to me. Found a "rad shop" that offers not to discharge air conditioning & lines and limits what is removed on the dash. Dealers wanted between $1200 and $1550 taxes included. This rad shop charged $630 including a total coolant flush, and if you do not want short cuts taken price is $1100. No brainer here, short cuts all the way. Just wanted everyone to know, look for shops willing to skip unnecessary steps if the savings is passed along. Not sure if the skipped steps are environmental or safety concerns but was assured end result is the same.

I noticed when oil spraying the 2012 Journey that the door sills are all filled with foam. At the time other owner's here suggested this was to help decrease road noise in the cabin. But to answer your question, yes foam in that area is normal.

probak118 replied to jkeaton's topic in Lounge

1972 Cutlass Supreme 350 Rocket - 4 barrel Fun Fun Fun 1979 Pontiac Sunbird hatchback 3.8 L Super fast off the line, possibly my favorite car to drive all time 1984 Mercury Cougar hardtop best looking / riding car by fa black and red interior - power everything 1993 Pontiac Sunbird 4 cyl Blah 2002 Dodge Caravan, getting old, kids in sports 2006 Chevy Impala, 3.8 , worst engine ever....head gaskets 2012 DJ - still own this one 2013 Chevy Trax, kids in sports still ....to small 2017 GMC Terrain

My 2012 has sat outside for 4 yrs now, no issues. The thought of freezing then letting the area warm up from the motor for it to work makes sense. Then you mentioned windshield replacement and this now occurring. I think your thought of possible water now leaking into an area it has not before makes sense. Is there a drain in the area that may now be plugged ? I know sometimes debris gets in that trough, maybe water is pooling now ? Then is freezes stopping the wipers operation until the motor can thaw the area ?

Just a thought as I did this ( dumb ass ), are the little metal clips on backwards ? Sorry for being vague, I installed mine backwards and a little nipple type thing sticking out would rub on the rotor. Once I switched them around noise went away. Now have a very fine line on one rotor where clip was just touching.

I agree, operating rear window or at least motorized rear side windows that tilt partially open like our old Caravan's did.

Nice...did you have to lower the tire pressures when you went in the actual sand dunes ?

Never heard of changing a perfectly good operating tensioner pulley just because your are changing the cerpintine belt . You change that when or if it ever starts making noise from bearing failure, easy change generally any way. I hear what they are saying ( water pump when timing is done - yes ). As you mentioned, where do you stop then ? Good luck with timing belt , water pump and belt change.

I completely agree with your opinion of the voice commands. Luckily there is not a learn feature for the commands I repeat back when trying dial a contact. Your L/ 100kms seems a little higher than my 2012 SRT averages but on the highway the 3.6 L gets good mileage. We do not have the back-up camera or the navigation system but, our 2017 Terrain with its Tom Tom system I hate it. Our portable Garmin for the DJ works great and free life time map updates. Very little maintenance our our end also, replace 2 sets of undersized brakes all around one we paid for and battery that is it ! Great report good read.

Figured after 6 1/2 yrs with the last 3 having been kicked out of the cozy garage battery had had enough. Alternator pumping out 80 amps, load test showed barely ok and battery taking a full charge but by morning dead again. Would not pay the $120 for dealer labour to change. After removing the tire and the wheel well shields found that the battery hold down rod and nut where completely rusted, great ! What a pain in the ass but, nothing a soaking of penetrating oil and a impact gun with extension could not handle. Then surprise surprise found the two negative cable fastener nuts were only hand tight ? Thanks dealer techs obviously when doing previous re-call work you forgot to tighten the connection properly. Pulled old battery and it tested to 12.4 volts.......OMG ! Not going thru that again, so installed the new battery bought anyway. I cannot believe someone could forget to make tight a battery cable connection or has anyone had one come loose on its own ? Guess it is possible and I could with the 6/49 lottery too ! Thanks for letting me rant everyone.

My 2012 SXT with smaller brakes went thru 2 sets of front brakes and rotors in first 2 years and only 20 000 kms on them. Changed all around in 2015, on the same pads and rotors, perhaps the OEM rotors were upgraded to a new supplier or better materials at some point ?

I know I loved moving from a Caravan to a Journey was great in 2012 and like you our Journey has served us well. We only have 2 boys and after adding goalie equipment and baseball stuff to many games all over, sometimes I really missed the Caravan. Now with a 4th on the way...using a roof mounted Yule might be a pain getting stroller etc in and out again and again ? Just my thoughts and yes your Journey does look nice and congrats on the family addition.

The local tint shop I use ( Ontario Canada ) also uses the thicker film. Almost like a rubber and it looked great on another vehicle he showed me.When we had our headlight covers done it looked like you had to know what you were doing. Maybe not a job to tackle yourself ? Looks like your journey is begging for a little tint on its front windows too Ha Ha

probak118 replied to Bill1's topic in Interior

Bill, 2late4u was offring his for sale in classified for $150 plus shipping. See if he still has it for sale ?

No wiper issues as of yet but, the same radio problems for the last year plus on our 2012. FINALLY someone else, dealer flashed the radio once and verified most current version. Still, did not fix issue, every so often I stop shut car off and restart to get radio to work again. Hopefully, someone has more info on this issue for us ?

I would be a little pissed at having a flat rather than think about taking pictures ? But like you said, could not have been better spot to have a flat.

Would not a local auto parts store ( Auto Zone, Reillys ) sorry from Canada so may have names wrong. Our local Canadian Tire, NAPA, Princess Auto stores here have wide variety of pre made styles of connectors on the shelves . Look on the net at our stores, maybe order online also ?

When I purchased our 2012 DJ sitting in the sales office I noticed the same on other DJs. I asked and was told that models produced in the later part of 2012 had a new badge ( red stripes). So, in the deal I said take off the older style badge and put a newer style on. LOL

probak118 replied to Shawn855's topic in Interior

Must be the mic(s), as you kinda need to speak towards the mirror for the hands free to work properly I find anyway.

probak118 replied to RAV's topic in Interior

Maybe my kids are nuts but they are the ones in the back seat. They say if I open the driver's door first, the rear doors unlock. But, they need to ask me to unlock the doors if they try to get out before me ? Who knows, guess we will test some day.

There is a battery temp sensor ?? Just a guess but, why would the alternator not still operate as normal ?

Crap...sorry Shawnn855 my mistake, your are correct. It must have been in the settings as mentioned but, I know I changed it to automatic ( they are not locked when car stops.).

The master door lock control on/off button is still activated. In addition to the child safety on the ends of the rear open doors, you need to give control to the individual doors. Look on your driver's side door arm rest below the rear window controls. There is a button that you press , that will give or remove all lock controls every time you press it.